This fall saw some work being completed at the Woodlawn, Veteran's Garden by the Commonwealth War Grave Commission (CWGC).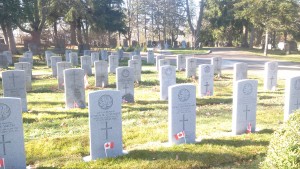 Fourteen Veterans, who died during the First World War are buried in this garden area and have been memorialized with CWGC monuments. Through time and to recognize the 100th anniversary of WW1 the CWGC began a project to replace all CWGC monuments.
These fourteen monuments have now been replaced and realigned.
Today I had the opportunity to meet with Gregorire Lacriox the inspector from CWGC. He was at Woodlawn Memorial Park to inspect the work that had been completed. Everything looks fine and is ready for our Remembrance Day Service which is being held on November 11th starting at 10:45am.
At 11am the 11th Field Regiment will be firing a Howitzer twice to mark the beginning and end of the two minutes of silence. If you have never witnessed this size of gun firing it is something I recommend you hear. It really makes you think what these veterans went through.
The weather is forecasted to be nice on Wednesday; we hope lots of people will join us here at Woodlawn Memorial Park in paying respect to the many that lost their lives fighting for our freedom. This service is for all ages.
Paul Taylor, General Manager