When answering the phone at Woodlawn Memorial Park, one never knows what to expect. Sometimes it's a wrong number (to which the caller's response is almost always comical), but most times it's a family seeking to make arrangements for their loved one's final place of rest.  We also receive many requests from across the globe seeking the grave location of a family member or friend laid to rest here during the past 164 years. So, when we received a call from California seeking the location of a grave for a young girl who died in 1932, it was not out of the ordinary.
Eleanor Matthews Cornish was the youngest of 3 children of Herbert and Beatrice Matthews.  She was born and raised in Guelph but moved to California before the birth of her 7th child.  In her 90's, Eleanor was going through some boxes of photos and treasures when she came across a small bag marked Ethel.  In it was a small diary, an apron embroidery project and case containing a small pair of glasses and a small thimble. 
She shared with her children, that these belonged to her older sister Ethel, who had died a month before Christmas in 1932, just 2 months shy of her 11th birthday. Eleanor explained that Ethel was buried in the same cemetery as her parents and her brother in Guelph, but that a monument or marker had never been placed for young Ethel.
That call from California was from Eleanor's son David seeking permission to have a monument placed for young Ethel, and could Eleanor be laid to rest with her big sister who she adored when her time came.  Woodlawn staff performed the required research to establish permission for these requests.  A few months later, Eleanor passed away and David began to work with our staff to design their monument.
In Ethel's little diary, written with pencil in near perfect 10-year-old cursive writing was a Christmas poem she was writing along with her signature.  This poem was chosen to be the focal point of the monument, but one word presented a challenge.  What probably should have been a "y" was written as "g".  Wanting to replicate the poem as it was written we debated the best way to move forward.  Would we use an etching technique to use photos of the actual diary or standard engraving for the poem? Deciding that a soft pink colour was the best colour choice, we eliminated the possibility of the etching. We agreed to use a script font to write the poem just as Ethel did, and replicate Ethel's signature at the end of the poem.
To tie in memories of the sisters, a photo ceramic was included in the design with Ethel holding a cat with young Eleanor looking up at her big sister.  As Eleanor had the fortune of living a full life, we added some of her favorite things, the names of her 7 children, flowers, and falling maple leaves as Eleanor often spoke of her cherished memories of Autumn in Ontario.
On what would have been her 93rd birthday, Eleanor was laid to rest in October. The day before, WMP staff had the honour to meet Jackie, Rich, and David; 3 of 7 Eleanor's children who had participated in the monument design in various ways.  After 85 years, the sisters were united again, and their childhood memories have been memorialized, to be forever remembered at Woodlawn Memorial Park.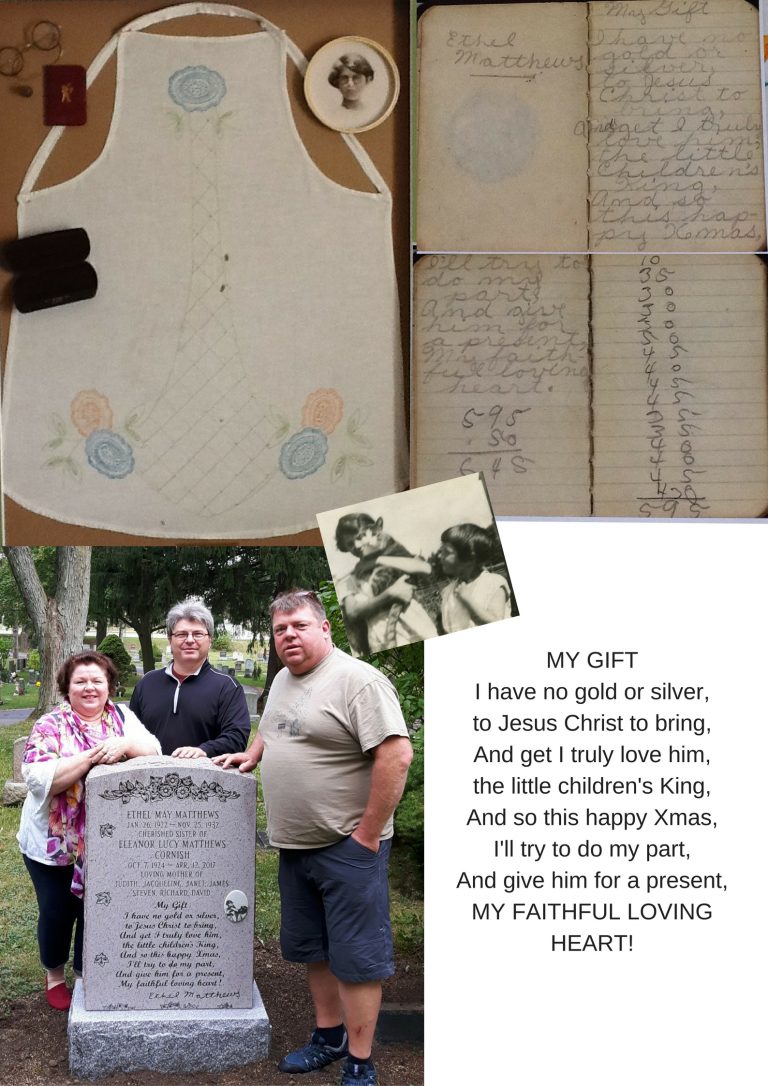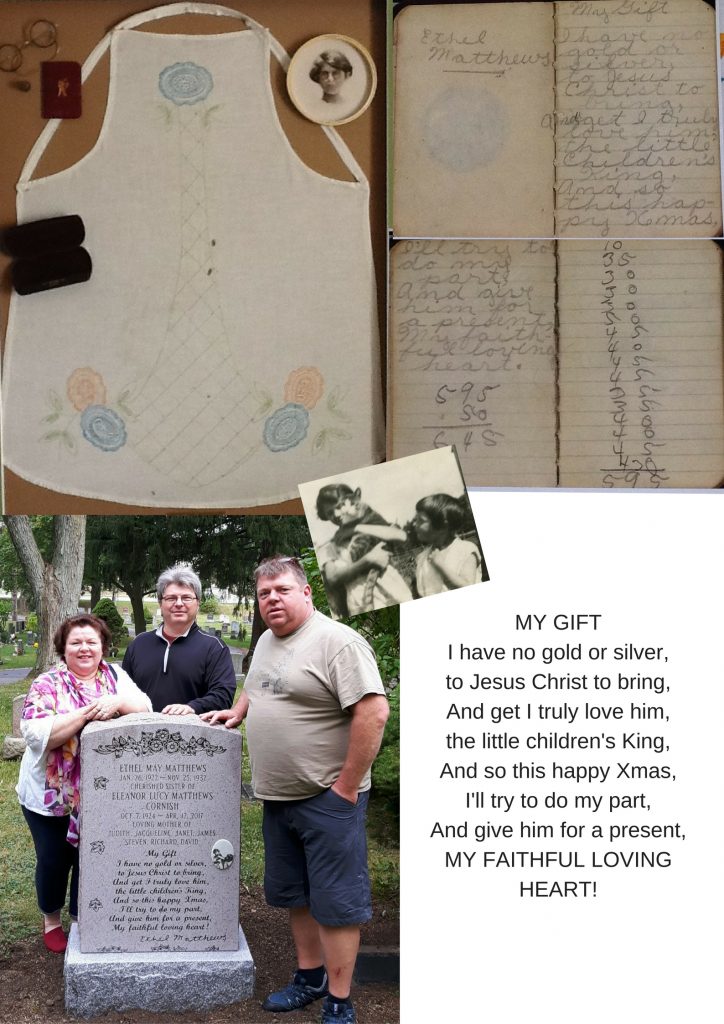 Ethel May Matthews
Life story as told by her sister (my mother), Eleanor Lucy Cornish at age 91:
Today's date is August 15th, 2016.
Mom says "Ethel had always wanted to be a school teacher" and would take my mother around by her hand as her little student.
Mom says "I knew how to spell many three letter words even before entering Kindergarten." To this day you can call out any word to Mom and she will give you the correct spelling.
Sadly at age 10 Ethel took ill with misdiagnosed appendicitis. She had terrible stomach pains so her brother Ted (10 years her senior) had brought her home a hot water bottle. The heat or pressure ultimately caused her appendix to rupture.
She was then taken to the hospital where mom says she received the best of care. Nurses day and night looked after her.
My mother was not allowed to hold Ethel's hand as she lay ill and eventually passed away. Her father Herbert Harry Matthews was afraid of disturbing the glass drainage tubes that were in her side.
This is Ethel's embroidery work that she did aged 10 or earlier. It was recently found along with her glasses and thimble.
And her little red book which contains, "My Gift."
– Written by David Charles Cornish, age 47