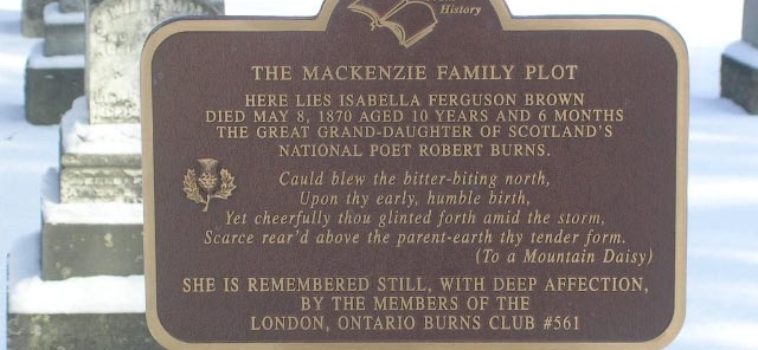 Have you seen the series of bronze plaques marked "A Page From History" off to the side of the roads at Woodlawn Memorial Park? Next time you're there, keep your eye out for one dedicated to a young girl named Isabella F. Brown. The story behind it is quite fascinating.
The sign marks the final resting place of Isabella Ferguson Brown, the great granddaughter of Scotland's National Poet Robert Burns. But how did Isabella end up in Guelph?
Robert Burns Jr., named after his celebrated father, was born in 1789 in Ellisland, Scotland. As a young man, Robert worked in London, England but made the decision to move his family back to his father's home in Dumfries, Scotland after the birth of his daughter Jane Emma Burns.
Growing up in Dumfries, Jane met her future husband, Thomas Brown, a foreman carder in the city's tweed mills. Together they had two daughters, Isabella Ferguson Brown and Jean Armour Burns Brown.
In 1870, the Brown family made the decision to move to Canada. Family friends, the MacKenzie's, had emigrated from Dumfries to Guelph in 1851 and Alexander MacKenzie was a clerk of the surrogate court here. Upon the arrival to Guelph, the Browns and the MacKenzies became close friends.
Unfortunately, shortly after their arrival their eldest daughter Isabella fell ill and passed away from a "heart disease" at just ten years of age. Alexander MacKenzie allowed the Browns to buried Isabella in his family plot in the Union (today known as Woodlawn) cemetery. She was buried on May 10, 1870.
Several years after the tragic loss of their daughter, the Brown family made the decision to return home to Scotland. Jean Armour Burns Brown, Isabella's surviving sister, moved into her great-grandfathers original home where she stayed for many years. Proud of her family's heritage and her position as last legitimate descendent, she took part in all events in Scotland honoring her great-grandfather. She even curated the museum built to honor him.
Tragically, Isabella Burns grave in Guelph was left unmarked until May 25, 1958 when the Jane Kennedy auxiliary, Order of the Scottish Clans, had the MacKenzie family monument inscribed to read:
ISABELLA F. BROWN, GREAT-GRANDDAUGHTER OF ROBERT BURNS, POET
The record of this inscription made its way back to Scotland where it was noted in the archives maintained at the Burn's cottage in Alloway, Dumfrieshire, Scotland.
This brings us back to the bronze plaque on Woodlawn's road. The Robbie Burns Society of London, Ontario erected a bronze plaque at roadside in Woodlawn Memorial Park to indicate the location of the Isabella's grave. In addition to Isabella's information is a verse from her great-grandfather's poem 'To a Mountain Daisy'.