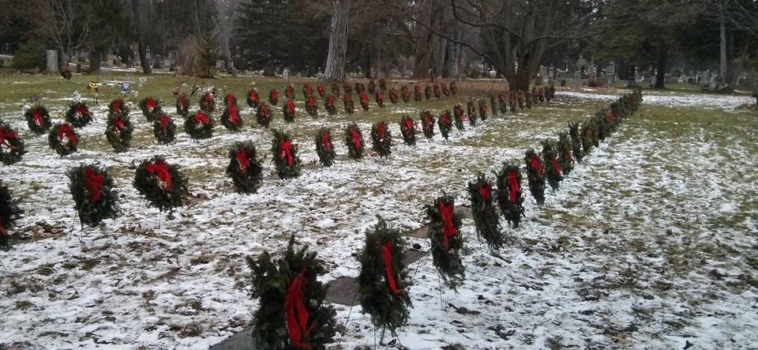 As you may recall, for the last few years, Woodlawn Memorial Park has hosted the Veterans' Winter Wreath service, which includes wreath-placing in honour of the many Veterans resting here in the cemetery. With recent events, it feels particularly important to honor and remember those who have fought and/or died for our country.
The Winter Wreath service, a project that I strongly support, was inspired by a program called Wreaths Across Canada.  Due in large part to the generosity of several local donors, many volunteers, family members and friends we were able to put a winter wreath on the graves of more than 200 veterans in the Veteran's area of our cemetery.
All of the wreaths to be placed during this inspiring event will be purchased through the generosity of donors. With amazing donations from people like you, we hope to again make this year's Veterans' Winter Wreath service as successful as last year's. With this in mind, our goal is to raise the funds required to purchase 200 winter wreaths, which we need to mark the graves of all our veterans.
We would like to invite you to attend the Veterans' Winter Wreath Service to be held at Woodlawn Memorial Park, 762 Woolwich Street, Guelph on Saturday December 5th. Service will begin at 10:30 am in the Veteran's area, center of the cemetery under the Canadian flag, with the Veterans' Winter Wreath placing to follow.
Thank you for your generosity, we look forward to making this year's event a great success. It is an honour to celebrate our veterans for their service in this way.
For more information or to make a donation, please contact the office at Woodlawn Memorial Park: 519-822-1271