By Susan Farrelly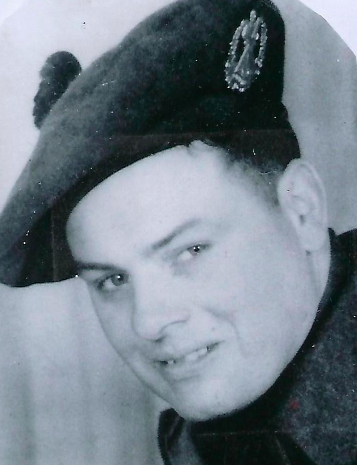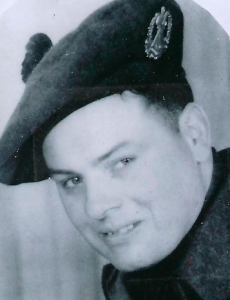 David is remembered as a committed husband and father, loyal worker, friend, and Canadian Armed Forces veteran. He had a good sense of humour and was considered practical and no-nonsense. David never dwelled on his difficult past which included having to work at the age of 13, surviving the Great Depression, serving in the war, and sustaining injuries in combat. 
Veteran David Joseph Harrington was born just over 100 years ago, on December 1, 1921, to parents George Harrington and Jeannetta Harrington (née Weedmark). His father, George, was a factory worker at IMICO and his mother, Jeannetta, was a homemaker who took care of their large family of 11 children named Adrienne, Irene, George, Helen, Theodore, Margaret, Audrey, James, David, Norman, and Albert.
David grew up in the 'Ward' in Guelph. He lived on Morris Street and attended Tytler Public School. David finished his schooling at the age of 13 to enter the workforce and help support his family, which meant that he was unable to attend high school. David started working at Biltmore Hats and then moved on to work at Taylor-Forbes, a Guelph factory, where metal castings were produced in the manufacturing of such items as lawn mowers, waffle irons, and laundry irons.
David and his brothers' early lives were filled with playing a variety of sports. David played Junior B hockey for Guelph and he worked at Mason's arena, which was located on Paisley Street. Mason's arena was a natural ice arena and David's job was to flood and maintain the rink.
David enlisted in the Canadian Armed Forces in 1942, joining three of his brothers also serving in the war. David was sent to Petawawa for training as a member of the D Troop Anti-Tank CATC Brigade before going overseas. Four of the Harrington boys served in World War II at the same time, with very little communication with one another or their family back home. David's younger brother, Norman, was killed in France following D-Day.
During his service, David was wounded in Holland when he was shot in his calf. Only two days after recuperating and returning to service, he suffered a shrapnel injury during a battle in Germany. David recovered in Belgium with the Gaudes family.
When World War II ended in September 1945, David stayed overseas to aid in the effort to stabilize Europe, and returned to Guelph in February 1946. Upon his return, he quickly put his skates on once again and played senior hockey with the Red Chevron team with his brother James. David started working at the Guelph Paper Box factory on Fountain Street, owned by the Small family. It was a business that manufactured boxes and bags for the majority of the retail stores in Guelph.
Not long after David started working at Guelph Paper Box, he met a co-worker named Dorothy Wood, and a workplace romance bloomed. David was 25 years old and Dorothy was 18. They had a lot in common, including the fact that she also finished schooling at the age of 13 to start working full-time. The couple married on April 14, 1948 in a simple ceremony at the Salvation Army Citadel. For their honeymoon, Dorothy and David took the train to Toronto to stay with Dorothy's grandparents before returning home to start their lives together as a married couple.
Dorothy and David's family grew with the arrival of William (Bill) in 1949 and Steven in 1950. David was a hard worker and he and Dorothy managed money carefully. He was proud to purchase a home for his family on Alma Street in 1954.
Bill recalls his childhood fondly, with his dad taking him and his brother fishing and to the hockey rink regularly. David was a very good hockey player, so he would revel in taking the boys to the Exhibition Park rink to show them the ropes.
David stayed in contact with the Gaudes family after the war, and they eventually immigrated to Canada. In 1959, David and his family drove to Winnipeg to visit the Gaudes family. Mr. Gaudes was a renowned pastry chef and their son, an RCMP officer, was also an artist, settled in Elora.
David was a loyal and long-serving employee at the Guelph Paper Box factory, working there for over 25 years before he had a heart attack which forced him to retire. Unfortunately, the surgeons indicated that circulation issues related to shrapnel in his leg caused his heart issues.
In his retirement, David enjoyed time with his family , watching sports on TV, hunting, fishing, and travelling. He liked working on house maintenance and small woodworking projects, as well as barbecuing on the weekends. In the 1970s, David returned to Europe to travel and he enjoyed many trips to Las Vegas with Dorothy.
David passed away on August 29, 2007 at the Guelph General Hospital. Dorothy survived him until January 2018 when she passed away peacefully.
David is cremated and is resting at Woodlawn Memorial Park.
We thank veteran David Joseph Harrington for his loyal and courageous service to Canada during World War II.