Woodlawn Memorial Park has a rich history and our team has put together some interesting facts and points of interests that you can enjoy on your next walk through our 4 kilometres of pathways. Read along and let us know if you learned anything new!
A Brief History of Woodlawn Memorial Park
Woodlawn Memorial Park is a not-for-profit organization that has provided a beautiful resting place for loved ones since 1854.
Our park is more than a multicultural and multi-denominational cemetery. We provide:
A network of over 4 kilometres of trails.
A place to enjoy the changing seasons.
A museum filled with art and history.
A habitat for honey bees.
A memorialization of families and friends.
The backdrop for a number of community events.
An arbour fund to ensure the well-being of the hundreds of trees that thrive in the park.
Preserving the Past
We have some famous landmarks on our grounds. See if you can find them on your next walk.
Drew-Jacob Private Mausoleum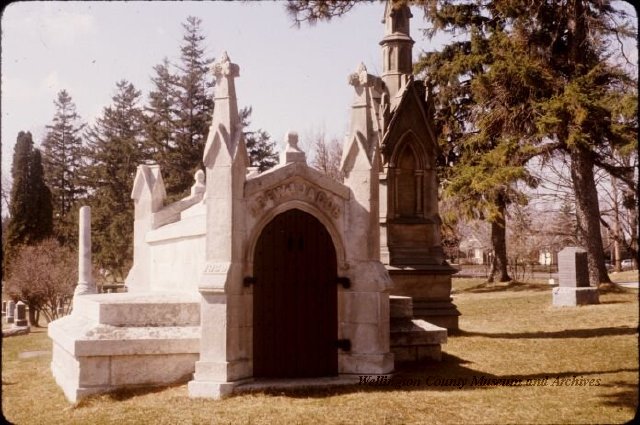 The only private mausoleum in the cemetery, the Drew-Jacob Mausoleum was built around 1869 in the gothic or Church Style. It is made of India and Canadian limestone. The limestone is weather-worn and some of the design lines are almost invisible, but you can still see the hand scribing and embellishment on the surfaces. The mausoleum has three levels, some below ground. The mausoleum holds the remains of more than 20 people.
Interesting Fact: Drew & Jacob were law partners in Elora.
Children's Memorial Garden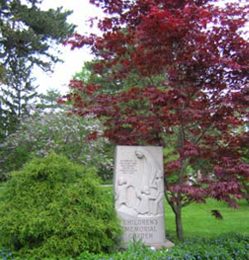 Our children's garden is a common vault that holds more than 900 babies and infants who were lost too early in life. The burials took place from 1921 – 1985. In 1997, a memorial was placed to mark the burial location.
Serving the Present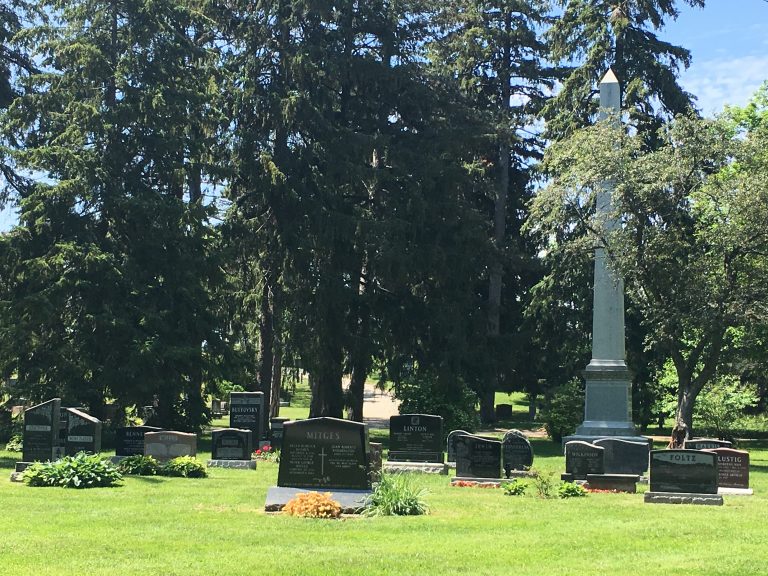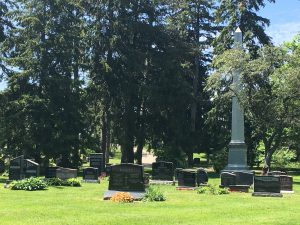 Interment Rights and Memorialization
Whether families have had a loss or are looking to plan for the future, we are here to assist our families through the process. From traditional burials to cremation scatterings, we offer a wide variety of services.
We also offer memorial design services to our families, so they don't have to worry about going to multiple places to make arrangements. Our memorial designer will review your options while complying with bylaw to ensure the final product is exactly what you're looking for.
As Woodlawn is a not-for-profit organization, all the proceeds go right back to supporting the cemetery.
Arbour Fund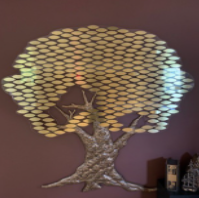 Woodlawn Memorial Park is more than 165 years old and as the trees mature we have begun to lose them. We invite you to give to the Arbor Fund to support the purchase and planting of new trees. Donations of $125.00 or more qualify for a leaf on the Tree of Remembrance, on display in our office.
You can also consider a donation tree. Donors can designate their tree to a loved one. It's a great way to help keep our park beautiful while remembering your loved ones, regardless of their final resting place.
Preparing for the Future
Woodlawn Memorial Park has 80 acres of land and we are growing and planning our development for future generations. Click here to view our video and learn a little bit about who we are and what we offer.
Whether you're at Woodlawn Memorial Park to lay a loved one to rest, to visit the memorial or marker of someone special, or to enjoy a walk through the grounds, we invite you to experience all that this special place has to offer.
We are working hard to plan the next stage of Woodlawn and are pleased to let you know that plans are coming into place. Stay tuned for future updates by following us on Facebook or subscribing to our bi-monthly newsletter.