People often look to local parks and trails to enjoy the great outdoors, but did you know that we have over 40 km of walking trails at Woodlawn Memorial Park?
We encourage our community to enjoy our trails, (including the connection to the Trans Canada Trail), and the nature that our memorial park provides. We take pride in our grounds, easy-to-walk roadways, and beautiful tree canopy that provides plenty of shade during hot summer days.
To help you along your walk, we've put together a walking trail map and, while you enjoy your walk, don't forget to enjoy some interesting stops along the way!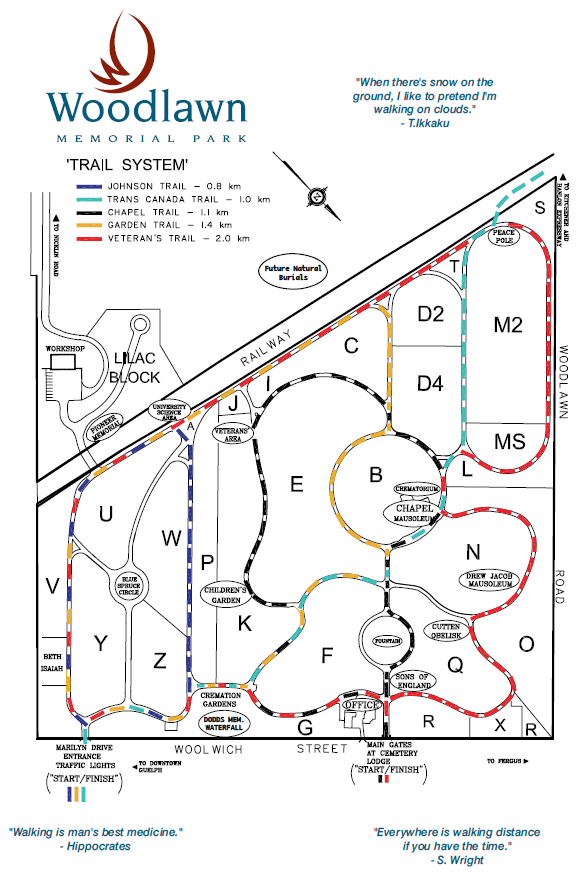 Stops Along The Way
While you enjoy your walk, you can take in a few interesting stops along your way.
Mothers' Grove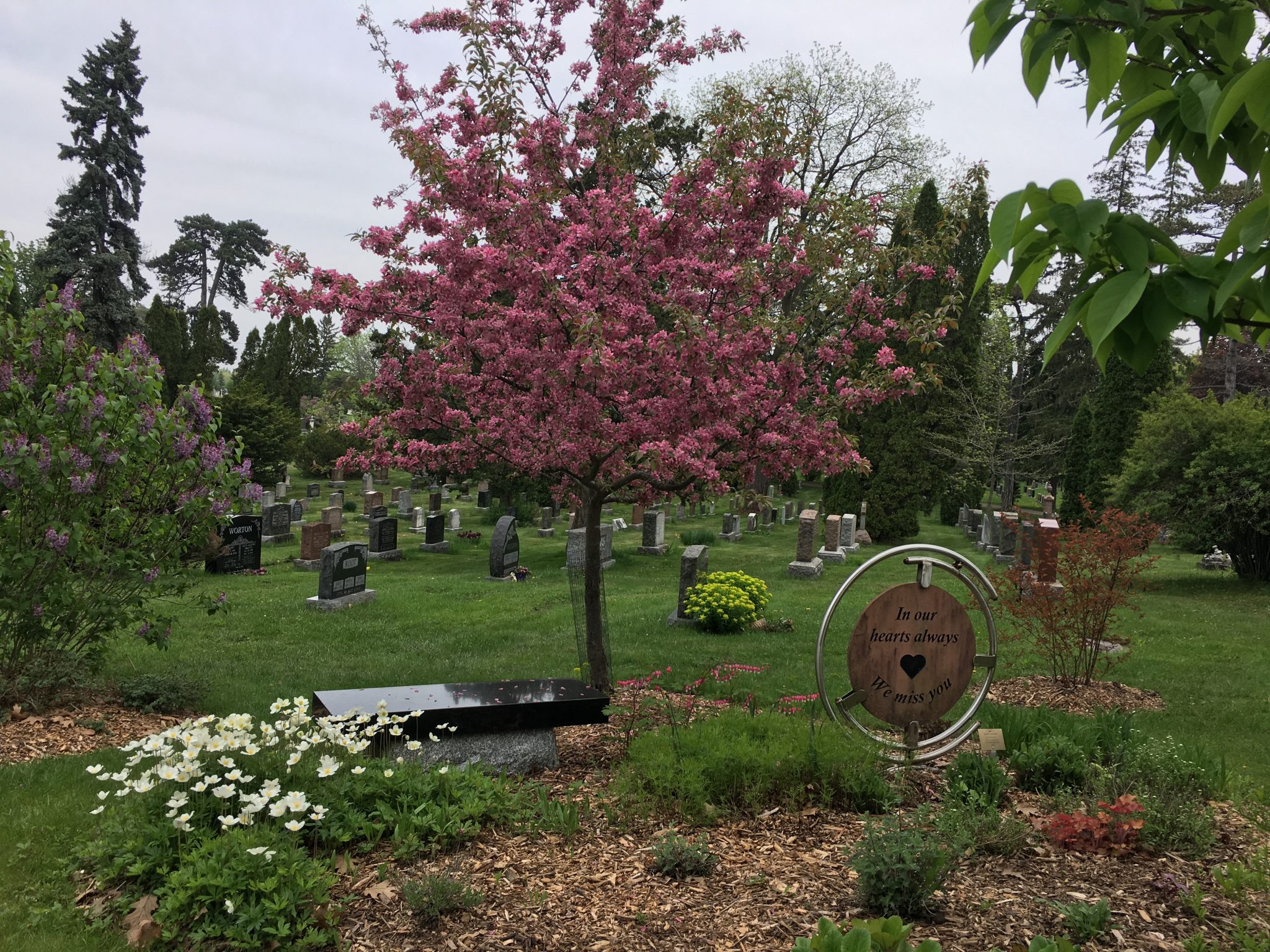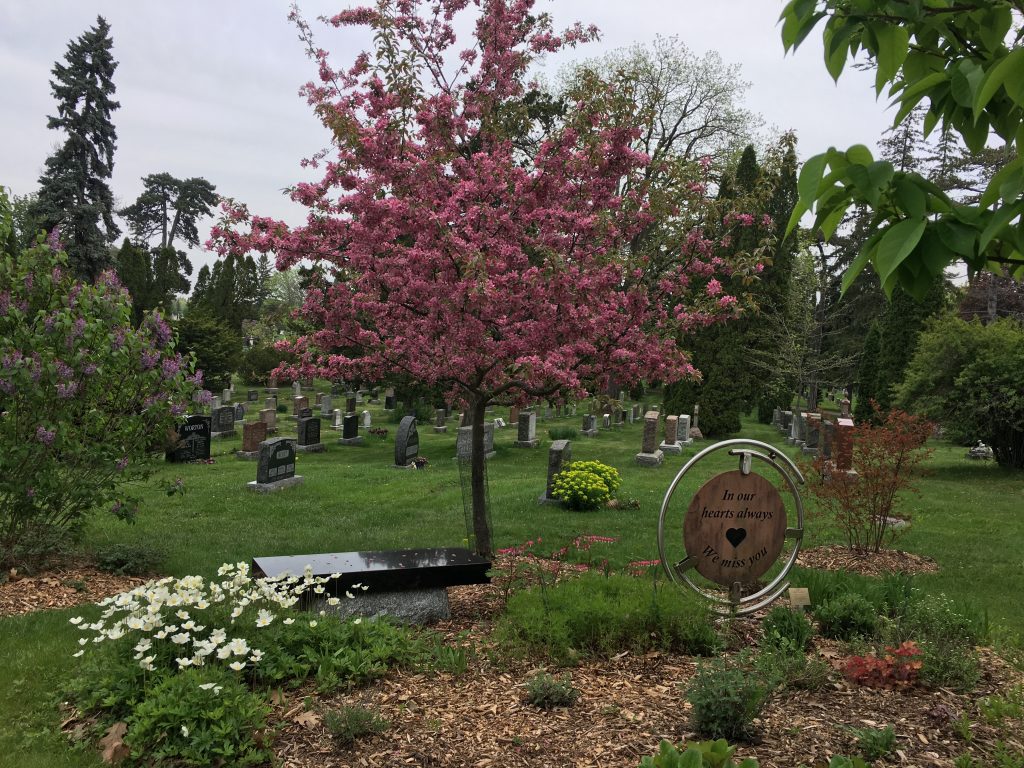 The Mothers' Grove is located across from and a few steps north of the entrance to the Mausoleum. The grove is easily distinguished by the eye catching stone and metal sculpture "Half Moon" created by Guelph metal artist Steven Cooper. The artist donated the sculpture as an anniversary gift to the cemetery in 2004.
Mausoleum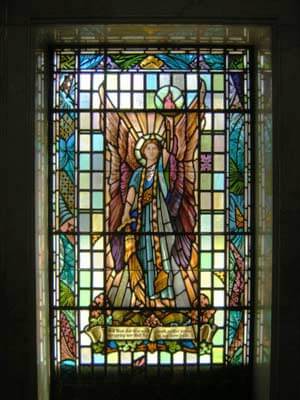 The stained glass at Woodlawn Memorial Park was restored in 1994 at a cost of $7500.00. It was originally designed and assembled by renowned artist James Blomfield (1872-1951), a glass artist who ranked one of the top two in Canada in c1895-c1930. James and his brother Charles pioneered the craft of leaded glass art in British Columbia in the 1890's. James received training in Europe and much of his work can be found in prestigious buildings throughout Canada and the United States.
Peace Pole Garden and the Trans Canada Trail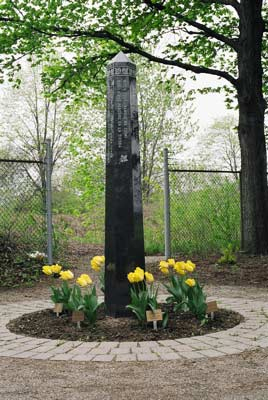 Woodlawn Memorial Park in Guelph is the only cemetery in Canada on the Trans Canada Trail. The north entrance of the Trans Canada Trail in Woodlawn is marked by the "Peace Pole" and is located in the North West corner of the cemetery, on the east side of the train tracks.
Enjoy A Healthy Walk
During your walk, slow down and take the time to notice our beautiful and historic monuments, admire our trees, and listen to the sounds of birds and many other animals. Enjoy peace and tranquility right in the heart of the city in our 80 acre grounds.
You read that right, we have 80 acres to explore — and we have plenty of space remaining where we will continue to grow and develop for future generations.
Below are a few tips for you to keep in mind when walking, as well as a few benefits:
During your walk you should be able to maintain a conversation. If you're finding it difficult to achieve this, then slow down a bit and take a few deep breaths.
Taking controlled breaths will help to control your blood pressure.
The act of walking will help to strengthen your heart so it can pump with less effort and put less pressure on your arteries.
Walking decreases your risk of a heart attack.
Walking improves sleep habits.
Walking improves mental health — and regular walking has been associated with reduced anxiety, tension, depression, and improved self-esteem.
Thanks to Hike Ontario & AARP for the Information about healthy walking.
We look forward to seeing you walking the grounds with your family and friends.
For additional information on Woodlawn Memorial Park and to learn a bit more about our services and our grounds, click here.